Hi all.
Does anyone know of a way for Gimp's File Open window to show larger icons?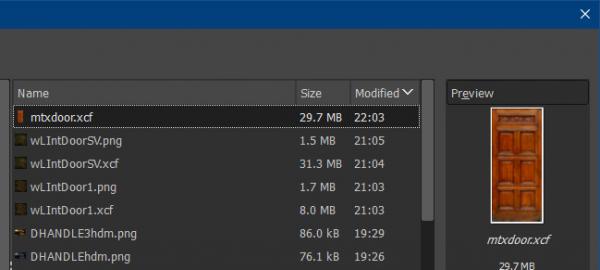 The icons on the left are too small to be of much use. The preview on the right is a nice size, so it would be nice to have those previews (or something a little smaller) in the main file list. It could have something like Windows' options to to show icons in varying sizes. The fact that the files do all show icons suggests that Gimp already generates some sort of thumbail data, so hopefully it won't be a major thing to increase the display size.
I've looked through the settings but not seen anything about the file browser. I've also had a look at version 2.99 but I don't see any additional settings for this.
I often use IrfanView or just Windows itself to browse files, but neither of them can read .xcf files. I've also tried using XnView but that only seems capable of reading the top layer. And it would be nice to keep more things within just one program.
An alternative would be for the existing preview data being saved in such a way as to make other browsers think they're dealing with .jpg data.
If there's an existing solution for my issue, please let me know. Or if there's a better place to ask for the above as a new feature, please let me know of that instead.
Thanks for reading!