06-30-2019, 11:26 AM (This post was last modified: 06-30-2019, 11:28 AM by rich2005. Edit Reason: typo )
When it comes to importing a RAW image in Gimp 2.10.x there is not much choice. The developers favour RawTherapee and Darktable and that is about it. Both quite large, stand-alone applications.
There is provision in the Gimp code for other applications to work and as far as I know, only nufraw has this enabled.  While I use nufraw in Linux (kubuntu 18.04 / Gimp 2.10.12) not much provision for Windows users.
The Partha version of Gimp 2.10.12 (64 bit only) contains the nufraw plugin, so one way is install that version,  it does a separate install to the regular Gimp 2.10.x. You can have both, if you want.
If you want to keep just  your regular gimp.org Gimp installation the attached zip contains just the nufraw Gimp plugin.
https://my.pcloud.com/publink/show?code=...kjnBoOKXQV
 3 MB zipped
Download, unzip put the whole nufraw
folder
in C:\Users\"yourname"\AppData\Roaming\GIMP\2.10\plug-ins
In use: The regular Gimp File -> Open selects the file and it opens with nufraw. For a quick 'into Gimp', set the Output to 16 bit and click the green 'ok' tick icon.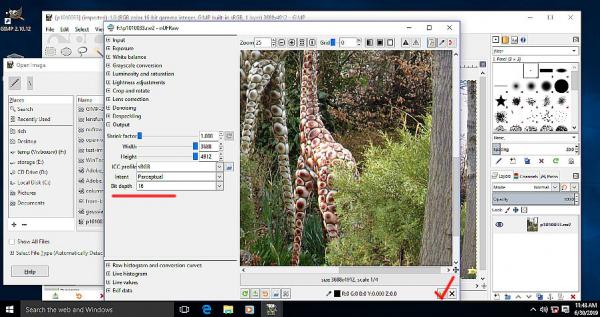 Tried out in a Win10/Gimp 2.10.12 and generally seems to work ok.
The usual guarantee, there is none
. What does not work - Lens Correction and I have left the locale files out. I have no way of checking those anyway.
If you find useful, all thanks and tributes go to Partha Bagchi at
http://www.partha.com