08-01-2020, 10:09 AM (This post was last modified: 08-01-2020, 10:13 AM by rich2005. Edit Reason: typo )
Quote:I've managed to make a template for my 11oz mugs,  I now want to add different images/ pictures and text.
Well your template did not come through, possibly too large for the forum. Try using Dropbox or similar and post a link.
Quote:...I now want to add different images/ pictures and text. How do you do this and then flip each one accordingly. Can you just keep dropping images on , move them where you want, ...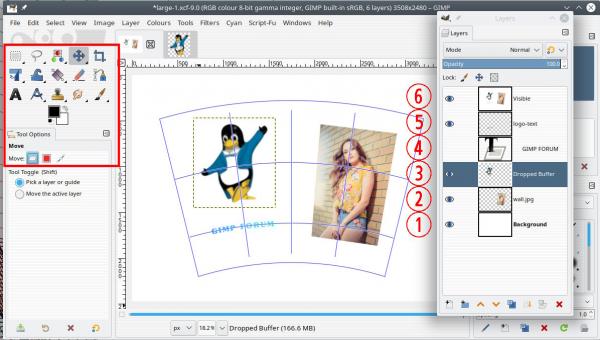 Spot on. That is about it. With a template open (1)  (Tapered Mug. Blue lines are paths and do not print), You can Open-As-Layers (2) Copy and paste images in (3) Note the dotted line which is the layer boundary.
Add text (4) and modify the text in some way (5) Not all layers have to be visible, some can be for reference but when complete a good idea is a New-from-Visible (6) that can be used for printing.
All the tools & settings you need are in the toolbox & tool options. Not shortcuts here, Use and learn-by-using.
Quote:...Can I use clip arts etc ...
Yes, but frequently the free ones come with 'only-for personal-use' or require you to give an 'author attribution'.