07-07-2020, 06:45 PM
Hi,
Win10, Gimp 2.10.21 Sam's Portable, Script old-photo-bakumatu.scm.
I got this script from a link provided by @Nidhogg at
http://gimpchat.com/viewtopic.php?f=9&t=...10#p237580
, and I really like it, both the results it produces directly and the possibilities it allows to be added manually after its execution.
It has always worked in the previous 2.10 versions I have used of Gimp, but in this current version (2.10.21 Sam's Portable) unfortunately it does not seem to be compatible and has errors and does not run completely.
The error messages are always as shown below, with the exception of the value called for the Plasma plugin (plug-in-plasma), these values always change, even for the same image.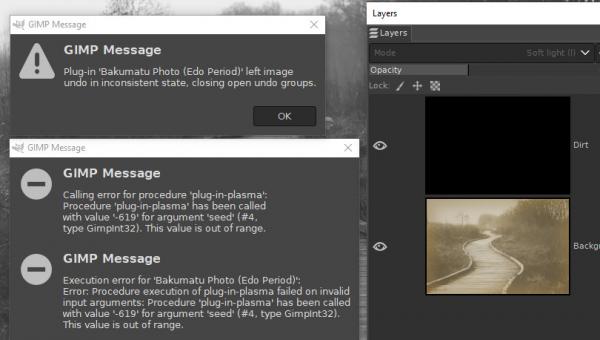 I wish someone could fix this script, make it functional again.
Thanks in advance!