I have an issue with my camera (cheapo 4k camera), on any other setting it's fine but when videoing in 4k I find every few frames are repeated producing an annoying jittery effect.
I used ffmpeg to convert the first 240 frames of a 15 minute video to see the problem in more detail, the images are definitely repeating every few images or so (although it's not at regular intervals, and not just one duplicate frame but 2 or 3 in a row at times)
I tried ffmpeg on it's own [i.e. 
https://stackoverflow.com/questions/5396...ate-frames
 ], but the result wasn't what I expected at all.
So it's difficult to deal with - to get rid of ALL duplicate frames in a 15 minute 30 fps video manually would be a non-starter.. so I looked into a Python solution - I installed dhash (via pip) which uses Pillow for parsing the images and it generates a "difference hash" for each image. I ran a test script and it seems to work how it should, each duplicate has the same hash value (see pic)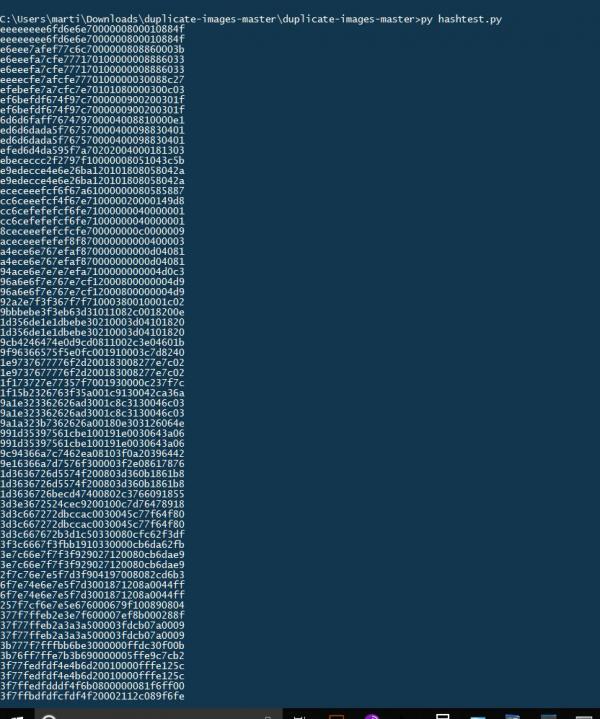 Could anyone help me in finding a solution or any other way of sorting the hashes so that the duplicates are gone, and in there places are blank spaces so that I can edit a column next to them with the associated image file that will need deleting. Hopefully then I can reconstruct the file using ffmpeg.
Alternatively is there any software out there that will do the same thing.
Thanks