Making a seamless pattern in Gimp 2.10 is a little easier now using symmetry painting.
Examples top to bottom: 1 - 2 -3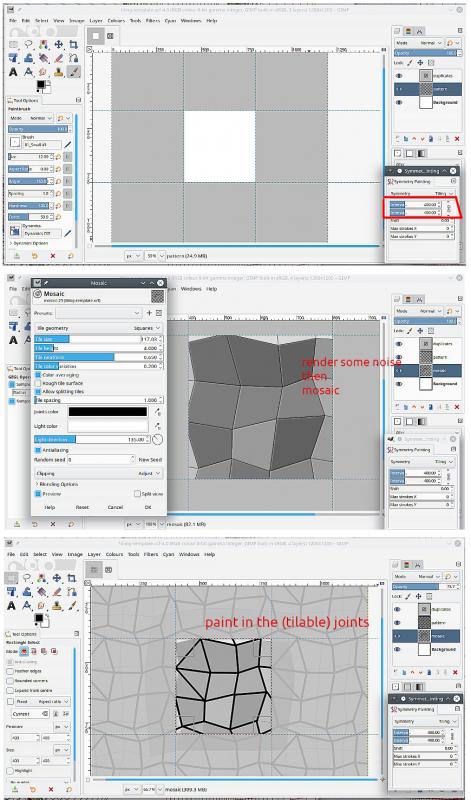 1. It is worth making a template xcf file. This one for a 400 x 400 pix tile, make a 3 x3 canvas ( ie. 1200 x 1200 pix) with some guides. Add a 'window' overlay if you want. Set the symmetry painting offsets to the tile size 400 for this one. 
 2. No need to use the mosaic filter if you can paint in the shapes yourself, just make sure the lines connect.  I made a temporary layer, filled with solid-noise, to give the shapes  
 3. Painted over to create the seamless pattern (joints) taking care at the edges.
Examples top to bottom 4 -5 -6  
 4. Adding some shape and another 'working'  layer. A selection inside the borders and a gradient fill in one of the shaped modes. Then merged with the pattern layer.  
 5. Duplicated the pattern layer for a bumpmap. Added some RGB noise to try and give some texture. Gaussian blurred it.  
 6. Bump Mapped the pattern layer against the blurred copy layer.  
 Select, copy, paste as a new image for the tile...and it is still seamless as: