Hello, recently my mother did two images to be the back and front of a card. The idea was to replicate them as much as possible into a single sheet, to generate as many cards as possible.  I went to a specialized place to print them (do not know the name of this kind of place in English), since there is no printer here. The attendant replicated them, but when the printing was done, the card's images were printed inclined. A new attempt was made with a different kind of paper (couche instead offset), because the attendant said it was related to the paper kind, and the printed images became less inclined, but enough as the back and front of the card did not match, they were not aligned, so there was a resulting with strip. The man responsible
My mother remade the images. She replicated the cards front and back images herself.
 Here is a screenshot of them: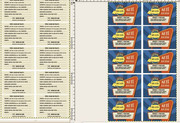 However the attendant (a different one from the day before) said something about how these images would not work, that they needed to be in the same pdf file (all the images until them were jpg) in two different pages.
My mother did this:
  but I do not think it will work, I don't know how to generate a .pdf with two pages with it, one a pdf with a single page. There is a non selectable option called "Two-sided" on  "Page-setup", but well, is  non selectable.
So my question is if it will once more be printed in a non aligned way (I think it will) , and if that's the case, what should I do to solve the problem.
Thanks for any help.