02-01-2020, 12:57 PM (This post was last modified: 02-01-2020, 01:00 PM by rich2005. Edit Reason: typo )
To add to Ofnuts post.
A result of Gimp 2.10.x defaulting to Lightness - Chroma -Hue (LCh) color space in the color picker. The magenta in the sliders indicating 'out-of-gamut' 
If it really annoys then switch to Hue - Saturation - Value (HSV) color space, Reset or pick a color to lose the indicator.  Unfortunately, no way at the present to set HSV as default.
30 second example on imgur: 
https://i.imgur.com/dOulTfH.mp4
Then this sometimes comes up in one form or another. The change color dialog shows patches of (out of gamut) magenta.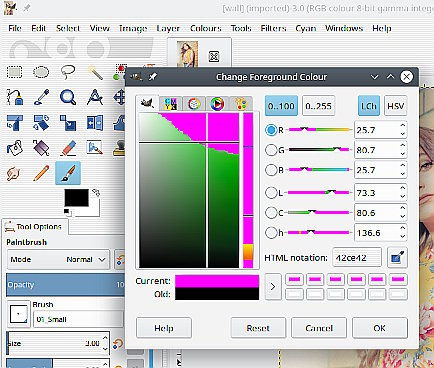 It means the user has Color Management and Soft proofing turned on. If you are not going to send your masterpiece off to a printing company, go into
Edit -> Preferences -> Color Management
and set
Image display mode to
No color management
to lose it.