03-22-2018, 07:48 PM (This post was last modified: 03-22-2018, 10:15 PM by Espermaschine.)
I was watching a
video tutorial
yesterday, and PS has a Colour Range selection tool, which
RobA's plug-in
was inspired by, i think.
Had it installed for a long time, but not really used much so far.
Unfortunately i couldnt get good results with it, especially not by adding or subtracting from an already existing selection.
You can find
the image used in the tutorial here
.
This is what the colour range looks like in PS. You select a colour with an eyedropper, which is basically what Gimp's Selection Tools do, but there is an interactive fuzziness (=Threshold) slider.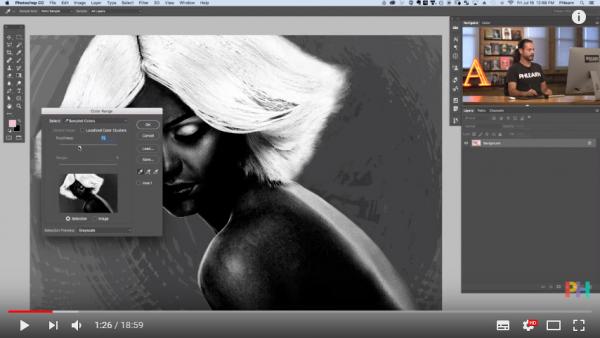 The goal is to select the hair and change the colour with Colourize and a layermask.
In the end i used the Fuzzy Selection Tool, because i couldnt find a way to select all the hair with the RobA plug-in.
But theoretically this tool should be able to make a better selection.