Thread Rating:
ofn-reorder-copy-layers
Support thread for ofn-reorder-copy-layers
Need a third party try-out?
Puts entries in the Image menu. Maybe layer menu is more obvious.
Works as plugin name, copies or moves the linked layers to a position above the active layer.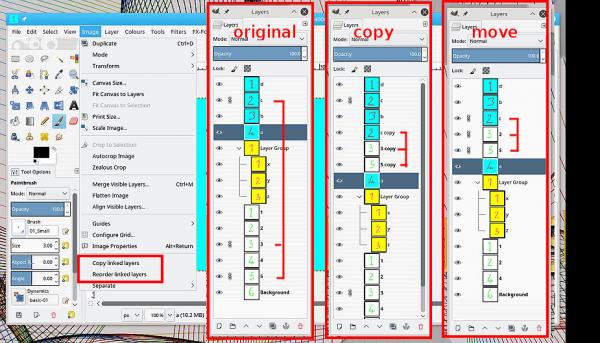 Thinking about those using layer groups, a mix of layers and layer-groups are ignored.
Try an apply within a layer group, no result and that little error message.
Just thinking about those links, should they remain or be cancelled after the operation?
Yes, the plugin doesn't support groups... The script is written to fulfill a need expressed on StackOverflow where the OP wants to move very many layers (animation sequences). I may improve it to move 1st level groups as well. In fact the most useful improvements would be to be able to select the layers by name using some form of joker expression, and maybe rename copies using a substitution rule.