12-16-2017, 09:40 AM (This post was last modified: 12-16-2017, 10:54 AM by Espermaschine.)
Quick question about Inkscape, the tiled clones dialogue and the coordinate system it uses.
Lets say i clone a square 10 Rows x 10 Columns, with a
Shift Y of 10% per Row and Shift X of 10% per Column.
I also want a stair effect per column of one square:
Shift Y per Column 100 + 10 for the gap compensation = 110%.
It works as expected, but when i look at the coordinate system, i get the impression something is wrong.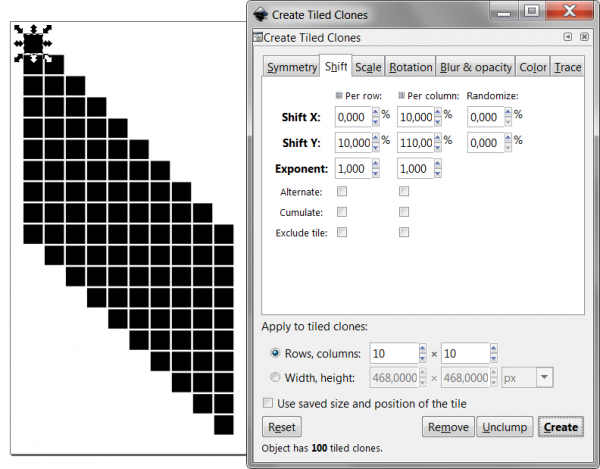 Negative displacements are to the left and to the bottom.
By that logic, i should have used:
Shift Y -10% per Row
and
Shift Y -110% per Column
But that gives me something entirely different...
Where is the mistake in my thinking ??
Or is my coordinate system the wrong way around ?