06-23-2020, 10:17 AM (This post was last modified: 06-23-2020, 11:59 AM by rich2005. Edit Reason: typo )
Some joy for linux flatpak users. (and some whinges from me)
Update your flatpak
Code:

flatpak update org.gimp.GIMP

Whinge no.1  - You get the Gimp manual. It is a big installation. Do I want it - no. I use either online or the pdf.
A list of the addons
Code:

flatpak install org.gimp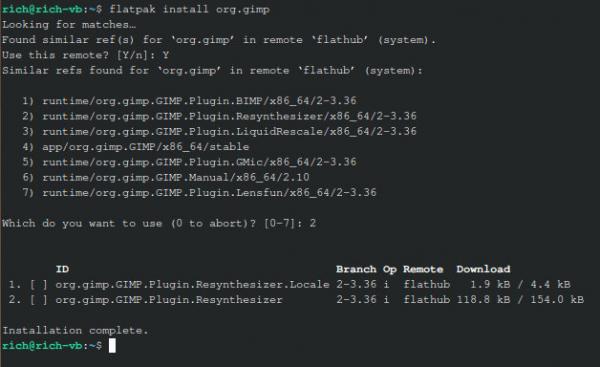 Very straight forward, select the one you want, (only one-at-a-time, you need to repeat the procedure for more) and it installs.
Whinge no.2 Resynthesizer for example, I remember installing that in an earlier flatpak with no problems at all, but it is welcome.
Whinge no.3 Again Resynthesizer, At best I use only two of the python plugins, heal-selection and occasionally heal-transparency. With this install you get the lot, 8 of them to clutter up the menu.
Whinge no.4 I want to remove the unwanted python plugins, go to Edit -> Preferences -> plug-ins. Where are they ?  It says  /app/.... Where ? I did find them eventually.
 /var/lib/flatpak/runtime/org.gimp.GIMP.Plugin.Resynthesizer/x86_64/2-3.36/ece209307f93889a3b75c31a809bd87b318ea42f014473f21b0a4604643c0b69/files/plug-ins/
However, for all,of that,  the gmic plugin is there and for many linux Gimp 2.10.x users that is welcome.