03-01-2017, 11:04 AM (This post was last modified: 01-24-2019, 05:11 PM by rich2005. Edit Reason: update )
Looking at the available script-fu and plug-ins available for drawing arrows, I found it difficult to find a compromise between very simple hands-on involving manually stroking paths and all-encompassing plugins with a myriad of options.
Decided on this one from
http://www.programmer97.talktalk.net/Files/arrow.zip
http://programmer97.byethost10.com/Files/arrow.zip
which is kept very up-to-date, with a sensible set of options.
Do download it
, it comes with a useful PDF on use. Un-zip, put the script
arrow.scm
in your Gimp profile
./gimp-2.8/scripts
folder or for Gimp 2.10
C:\Users\"yourname"\AppData\Roaming\GIMP\2.10\scripts
I personally like it as a script because;
- I can add it to
ofnuts resources manager
and load it for occasional use.
- By default the arrows go on their own layers, easy to delete or move
- By default it cleans up after use.
How to use it,
make a path
, invoke the script. Tools -> arrow.. 
What I do not like are the default settings for 'Length of Wings' and 'Brush Thickness Type', so I have adjusted them in the attached script
arrow-set-size.scm
Un-zip, put arrow-set-size.scm in your Gimp profile scripts folder.
A comparison using the default values, of course you can adjust either from the script dialogue for any particular image. The script(s) show up in the
Tools
menu.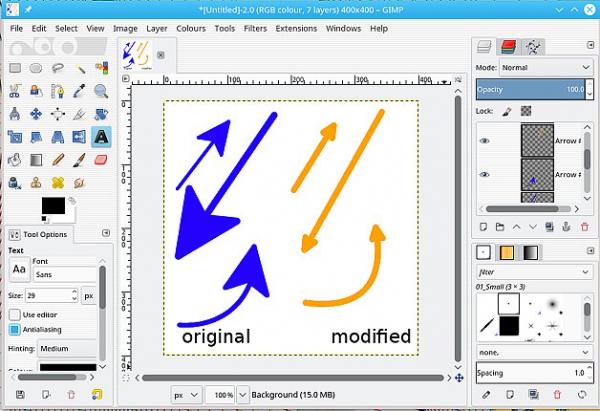 Depending on the type of images edited, very large or small, you might want to permanently change some of the sizes. Not difficult if you stick to the basics. Edit the end of the script. Remember to work on a copy, in case (when) you screw things up.