12-13-2020, 10:16 PM (This post was last modified: 12-13-2020, 10:17 PM by carmen. Edit Reason: typo )
Well, I wanted this format for text: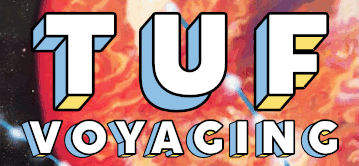 so:
I tried first in Gimp, with 'TUF'. The result is there, but even with much help from plugins, the procedure was some trial--as this site lacks a 'spoiler' feature, I am attaching a

.txt

file with the 10 steps it took me get the upper part of the text above. It called for some patience!

Thus, I tried plan B, and exported the two paths for 'VOYAGING'--path from text and moved copy--to Inkscape. Unfortunately, although the last version includes 2 '

text extrusion

' (in

Extensions

and as an experimental

LPE

) neither worked for me... Therefore, a new exercise in patience--path difference + too many hand deletions and additions, to get here and import to Gimp:


The image above isn't all I could wish: I should try again with the extruded paths moved slightly up and right. 
But, before I undertake it,
please:
Does some kind person have some tips on procedure? 
I am really interested--SF fans can think of the
AMAZING
  logo  to understand...