Perhaps it is best to watch this video first (if you haven't seen it yet) to understand what I am having an issue with.
https://www.youtube.com/watch?v=LKnqECcg6Gw
In Gimp 2.9 I did a test with an image in 32 bit float and linear color space, although the same problem exists in 8 bit.
I start with a simple image:
In a new layer using the 2.9 'normal' default layer mode, painting new colors lines has this effect:
This is correct.  If you look around the edges of the colors, they blend correctly.
But if I paint directly in the same layer, I get the dark outlines: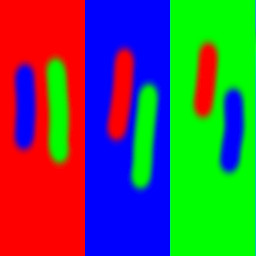 In other words, the new layer modes work correctly, but if colors are painted on the same layer, the colors do not blend correctly.
Anyone know what I can do to fix this?  Should I download a different color space, or is this just a hard-coded flaw?